Access
In Honfleur, the apartment is located rue des Capucins, in the heart of the preserved quarter, and at 100m from Sainte Catherine church. Click images below to see the location.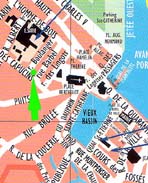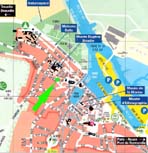 (cartes de l\'office de tourisme de Honfleur)
Car access: The access is very simple thanks to a direct connection from the highway and to the "pont de Normandie" (Normandy bridge) over the Seine river. From Paris, follow A13 highway. It is usually fluid. In Honfleur, go to town center, turn around the old docks, and drive up the street to st. Catherine church. The street of Les capucins, is a bit further uphill. )

Train and bus, Paris to Honfleur: Take the train at Paris St. Lazare station, to Deauville-trouville station (about 2h10). Take the bus number 20 ("Bus verts du Calvados") left when exiting the station (it takes about 30 minutes to Honfleur). Take your seat on the left side of the bus (looking to the driver) to see the sea and the scenic road. Back: same in reverse order Fare: about 58 euros (53 for the train and 5 for the bus)
If you chose the train-bus route, check the timetable of local buses ("bus verts du Calvados") (in french).
You have several other choices, which for instance are summarized on the national office of tourism website
---
To contact us:
Honfleur accommodation
The material present on this web site is copyrighted. Keywords: Honfleur accommodation, holiday accommodation, Honfleur 11th july, hotel Honfleur, Honfleur renting. Same author sites: Location Honfleur Zameho Nanotube Cours de Japonais Rodez フランス語 つくば lire-cp . Partenaires: locations vacances Honfleur, Location Calvados